We had Japanese women here, as our B&B guests, who were well experienced of
Japanese tea ceremony. After the breakfast, they gave us a chance of the experience.
They demonstrated how to do it with tea utensils and tools, Matcha (green tea powder),
and Japenese sweets for the ceremony which were all brought from Japan.
先月お泊りにいらした女性5名のお客様。 お茶の経験豊富な方々ということで・・・
朝食後に、お茶をたてていただきました。

  実は、我が家3人ともお茶は初めて。





  あわてて朝寝坊のレノンを起こしてきて・・・
  (パジャマのままで大変失礼しました)
  お作法など、教えていただきながら、
  初のお茶体験。


  





First experience for my family.
I woke up Renon in a hurry and let her participate.
Excuse her in pajamas.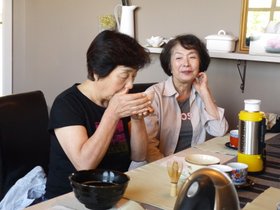 Other than the pretty persimmon sweets,
  we got small eggplant sweets as a gift from them.

  かわいい柿のお茶菓子の他に、
  小茄子のお菓子もお土産にいただきました。
  『初なすび』: 山形県鶴岡市の大松屋本家
  (昭和天皇謙譲御採納品と書かれてます)



  




   Thank you for the wonderful opportunity.
We are looking forward to seeing you next time.

    皆様、この度はこのような機会をつくって
        くださって、ありがとうございました。


********************************************************************************************

A week later, I suddenly remembered that I had got "Cha-sen" (one of tea utensils,
whipper made by bamboo) from my Japanese friend 15-years ago. There must be somewhere....

数日後・・・そうだ、栄子ちゃん(うちの店の初代スタッフ)から15年前にいただいた茶筅が
どこかにしまってあったはず・・・


  Here it is !!
  あった、あった!


     I found this one, too, in the back.
     A black tea pot which looks like
       a special iron-made one.
    
  
                       ついでに、コレも奥のほうから発見。
                   2~3年前に、こっちで衝動買いした鉄瓶のような土瓶。  
                  とうとう出番がきた! 見た目が何とも、お茶っぽくてイイ。


            

Then, I try to make tea by myself !


         必要なものが揃ったところで、

お茶をたててみよう!





  While the cup and Cha-sen were warmed up
  by hot water, I sifted Matcha (green tea powder)
  to avoid lumps.

  抹茶は初めに茶漉しでふるっておくと
  ダマになりにくいとのことで、
  茶筅とボウルをお湯で温めている間に、
  やっておきます。

        Awesome combination with the sweet
   (dried eggplant sweet which I got from the ladies)
   

                         先日いただいた『初なすび』をお茶菓子に。
                          驚いた! 中身はちゃんと茄子なのに、
                             甘くて美味しいお菓子になってる!





  こちらは、留学生のじゅりちゃんからの
  お土産、京菓子『雲龍』


  






     上品な小豆の味とそぼろ仕立ての食感が
            渦巻きになって、まさに雲龍。
          この甘さ加減が抹茶とよく合う・・・

          Another beautiful sweet made from
                 sweetened azuki beans.
      I got it from Julie as a souvenir from Japan.
       Azuki & Matcha, royal road combination !


 


  後日、
  こちらのお菓子は、先週いらした知人からのお土産、
  たねやの『栗月下』

  








        And, one more sweets made from chestnut.
            I felt the deepness of 100% chestnut.
                       Pure and delicious !


Tasted it with "Fukamushi-cha" (deep steamed green tea),
                                 as my friend Fusako's recommendation.


  「是非このお茶と一緒に」
  と深蒸し茶もいただきましたので・・・
  まずはお勧め通りに。
  
  ホクホクの甘い栗をそのまま食べているかの
  ような、純粋な味わい。 深蒸し茶にぴったり。
  
 
           Then tasted it again with Matcha this time.
           I think it was better with the Fukamushi-cha
                           than with Matcha,
           for this mild sweetness and for this texture.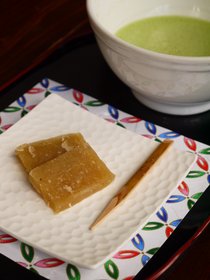 その後、抹茶でたてたお茶にて、もう一度・・・
   素朴な味のこのお菓子、この食感には、抹茶よりも
    お勧めの深蒸し茶がより引き立つ感じがしました。


          お茶とお菓子の組合せ、奥が深いです。
    ワインと料理のマッチングみたいで、はまりそう!





The combination of tea and sweet is profound !

It's like the matching of wine and cuisine.

Well...getting some more utensils in Japan, I would like to enjoy tea ceremony often here.

今度の帰国中に、お茶道具を見にいってみよう! カフェオレ・ボウルでなくて、

ちゃんとした御茶碗がほしいなぁ、合羽橋に行けばあるかなぁ

道具を揃えたら、ワナカでも素敵なお茶会ができそう!

For wine lovers,
I often make a blue cheese chiffon cake which has rich texture
of tasty NZ bluecheese.
Here they were!!
This couple loved NZ wine, and enjoyed it with each course of dinner.
Before dessert, I served some pieces of the blue cheese cake for them.
It was another good matching !!

ワインのお好きなカップルがいらっしゃいました。
我家のワインセラーから、2本は選んでおきましたが、さらに1本・・・。
メインディッシュも終わり、そろそろデザート?と思いきや、次のワインに突入。
・・・で、甘いデザートの前に、小休止でお出ししたのは、
ブルーチーズのシフォンケーキ。
適度な塩気と甘みほんのり、こっくりとした食感で、ちょうど良いワインのおつまみ。


Blue cheese chiffon cake, served with real blue cheese,
dried fruits, & home-made quince sorbet.




ご主人がワインをお楽しみ中、
ピアノの先生でいらっしゃる奥様の思いがけずの素晴らしい演奏を耳にしました。

After a while, the wife who was piano tutor in Japan showed us a beautiful piano performance here. She enjoyed the sounds itself of my old piano.


Collard & Collard London (1905): has a great rich tone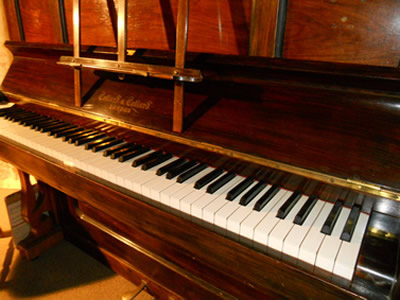 我家のピアノは、1905年製造(107歳!)のアンティーク・ピアノで、
燭台のついていた跡が残っています。
調律師の薦めで、そろそろ買い替えも考えていたところでしたが、
奥様から「古いピアノならではの深みのある素敵な音色ですね」と褒められて、
「もうしばらく、このピアノと共に」と心に決めました。
次回いらっしゃったときには、是非レッスンをお願いします。

Well done my piano for 107-years !