Kia ora cooking mates!
Do you know the original true season of the spinach? Yes, it just came. 
Both of the taste and nutritive value are high in the winter spinach.


  I introduce "Ohitashi" today,
  which is a basic of the basics
  of Japanese home cooking. 
  Just follow the recipe to get the
  basic tip, use your imagination to
  arrange it, and add it as one of your
  side dish recipe.

  ほうれん草の美味しい季節になり
  ました。 味も栄養価も高くなる
  冬のほうれん草を使っておひたし
  を作ります。
家庭料理・副菜の基本中の基本というものだけに、わざわざここで取り上げなくても
と思いましたが、トッピングを変えてみたら目先が変わり、美味しさも相乗効果で
広がったのでご紹介します。

*******************************************************************************************


(for 4~6 small serving)
            1t = 1 tea spoon (5ml)


350g~400g   bunches of spinach
  1 t       salt
  2 t       soy sauce

favorite toppings like : toasted sesame seeds / dried bonito flakes / etc.

favorite sauce and/or oil like :
dashi-soy sauce*/ ponzu citrus sauce
/ sesame oil / olive oil / etc.



1. WASH : Wash spinach well especially to clean the stem and root parts.
( I usually soak them in water in the sink for a while, then shake them to wash.)


2. COOK : Boil water in deep pot, add 1t salt.




Hold all spinach roots (pink parts) together, let those part down and stand on the boiling water. Cook for 30sec, then put all leaf parts in, cook further 30sec.


3. DRAIN :




Drain in a strainer, put on a tray and cool down (fan can be used). I don't recommend to use running water to cool down, because Vitamin-C of spinach flows out with the water.


4. SQUEEZE twice :




一度水気をしぼったあと、少量の醤油を馴染ませてからもう一度しぼります。 
これで全体にうっすらと下味がつきます。
Hold the spinach pink parts together, squeeze the excess water out. 
Return them back on the tray, now sprinkle 2t of soy sauce over,
                                 then do 2nd squeeze.
**The purpose of this step (soy sauce & squeeze again) is to add preliminary seasoning to maximize the Umami of spinach.


5. CUT & SERVE : Cut into 4cm length.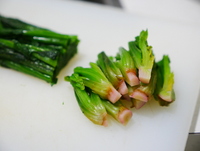 The pink parts are edible and have sweet taste. 


(A) Traditional serving way:  Put the cut spinach into a small bowl neatly,
pour dashi-soy sauce* over, top with dried bonito flakes, then serve.
*Dashi-soy sauce :
120ml water + ¼ t of dashi stock powder + 1t soy sauce + 1t mirin




     *Handy way instead of making Dashi-soy sauce :
             Thin Kombu tsuyu with water.
         Kombu tsuyu : water = 1 : 4

             Kombu tsuyu is available at LuLu Mart
                     (Asian market in Wanaka)


(B) Serving of variational assortment:

  Divide cut spinach into some parts on the plate.
  Decorate with favorite toppings and sauce.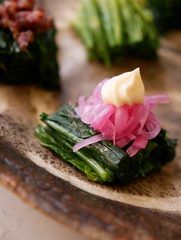 Marinated red onion & mayonnaise



Salt & sesame oil,              Drops of soy sauce &
toasted sesame seeds                 grated parmesan cheese



Olive oil & chopped anchovies     Drops of soy sauce & dried bonito flakes


******************************************************************************************

アイデアは次々出てきますが・・・ 
もし美味しい組合わせを発見したら是非教えてくださいね。




The idea comes out in sequence.
If you hit on a delicious combination, just let me know!

         Kia pai te kai kōkihi !