Japan, the treasure country of traditional cultures.
The thing which I wanted to get all the time, a Japanese kitchen knife.
"I want to buy it from the expert directly..."
My wish came true during this visit to Japan.


 伝統文化の宝庫、日本で
 今回も多くを学びました。

 帰国したら入手したいと
 ずっと思っていたもの、
 和包丁。 
 和食料理に長く携わり
 ながら、これまで
 包丁は洋包丁、
 研ぐのは砥ぎ棒でした。 

料理教室に参加してくださる現地の生徒さんの中には、私のよりずっと切れ味の良い
和包丁を持参する方もいるというのに・・・
購入するなら、包丁職人さんから直接買いたい、正しい研ぎ方も学びたい。 
この帰国で、思いがようやくかないました。

         *********************

「職人さんていうのは、何者か素性の知れない一般人には売らないものだよ」
夫にはそう言われてきたけど・・・
飛行機の中で考えた末、日本到着直後、ダメもとで、刃物の町・堺の包丁関連の
会社や製作所に何件か電話してみました。 その中で手を差し伸べてくださったのが、
山本刃剣さんの山本様でした。  


  Although I remembered my husband's word of
  "Craftsman doesn't sell his works to everyone",
  I tried to contact several factories in Sakai
  (in Osaka) where had been known well as a town
  produced swords and kitchen knives for centuries.
  Finally I could get an appointment with
  Mr. S. Yamamoto of "YAMAMOTO HAKEN".

  伺う日までに、失礼のないよう、事前に
  包丁に関する予備知識を頭に叩き込みました。 
  書店で購入したこの本で勉強。

I learned about "knives" with this specific book for the preparation, before my visit.



2 weeks later, I went to Osaka (600km west from my parents' house in Saitama)
to see my old friend.

  Then I visited Mr.Yamamoto
  in Sakai city together.

  2週間後に大阪へ。
  向こうに住む友人にお付き合い
  いただき、路面電車に乗り込み、
  高須神社で下車。  

  神社と古い町並みが
          ノスタルジック。



Takasu jinja (Shinto shrine)
        and old town atmosphere,
                   was nostalgic.
 

At 5 minutes walk from the tramway stop, the factory, YAMAMOTO HAKEN was there. The family of Mr.Hideaki, Mr.Shinichiro, and his wife warmly welcomed us. They showed me a various kitchen knives and explained the features.
I choose one of those gratefully.
Mr.Shinichiro also let me experience sharpening of the knife with "Toishi" (whetstone). He gave me a lecture on; direction of the knife to the toishi, angle of the blade and how to place to the toishi, how much use power for sharpening, and how important accurate maintenance.

お聞きしていた住所を頼りに歩いて、5分ほどのところに発見。
お伺いすると、奥の工房に通してくださいました。 私が普段包丁を使う頻度や料理教室をやっていることなど状況をお伝えしたら、レベルに合った何丁もの包丁を出して説明
してくださり、その中から一丁を決めました。 
その後、砥石の扱い方から研ぎ方まで、丁寧に教えていただきました。

直接ご指導くださった真一郎様、奥様、工房奥で刃付け作業をされていらっしゃった
お父様の英明様にも声をかけていただき、皆様にはお忙しい中、大変お世話になり
ました。 

**************************************************************************************************
"YAMAMOTO HAKEN" is run by Mr. Hideaki Yamamoto (Bladesmith / Traditional craftsman of Sakai forged blades, with 67 years of experience) and his son,
Mr. Shinichiro Yamamoto (Traditional craftsman of Sakai forged blades, with 30 years of experience / First-class architect).
The kanji-character of "英" engraved on the blade of kitchen knife is the proof of their superior technique.
         For their product info : www.sakaihamono.com   
**************************************************************************************************

I purchased a toishi (whetstone) and cutting board later.
TOISHI :  a lightest one of combination type with rough side & smooth side.
       I thought it was better to bring it home by airplane.
CUTTING BOARD :  a wooden board which is gentle to the blade.
              I chose paulownia one.

後日、砥石とまな板を購入。
砥石: 飛行機で持ち帰ることを考えて一番軽いコンビ砥石(荒砥&仕上砥)に。
まな板: 刃に優しいまな板、ということで木製。 檜より桐のほうが軽かったので
      桐のまな板を購入。


           ***********************



  Here is my knife which I took home in NZ.

  さて、NZに持ち帰った包丁、
  じっくり眺めてから・・・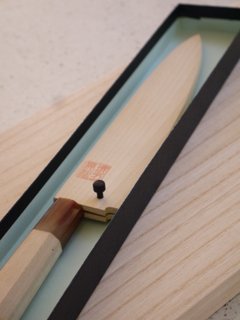 [鞘付き]

[口輪は水牛の角製]


[柄は朴の八角形]                    [両刃]


早速使ってみました。
ホキの切り身を、お刺身となめろうに。 

  I used the knife.
  It was so comfortable to cut !
  Very smooth !
  So pleasant feeling !
  Beautiful slices of Hoki
  went well for "Sashimi".












包丁が具材をすっと通り、
まな板に吸付く心地よさ!

             繊維を壊さず切れるので、
            お刺身の口当たりが良い!





  味噌・オリーブオイル・ライムで味付けした、
  ちょっと洋風のなめろうは、ワインでもイケる!
   
  "Namero"
  fusion version with chopped Hoki,
  mixed with miso, ginger, green onion,
  olive oil, and lime juice.
  Beautiful taste !
  It went well with Chardonnay.




さ、この後は・・・
ご教示いただいた通り、メンテナンスもしっかりやります。
今度は砥石の出番!

I surely do the maintenance well with toishi as I was instructed.
Love my knife...