DARUMA DOLL
               ~KEEPING an EYE on our DREAMS~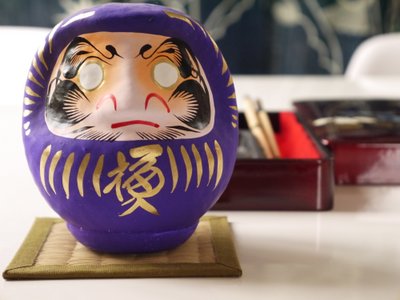 Daruma is a traditional handmade Japanese wishing doll
(or charmingly referred to as a "GOAL DOLL")
that keeps us focused on achieving our goals! 
It is a centuries-old tradition from Japan
that is positive, motivational, and fun (and it works) !!



   Here are the FIVE simple steps to using a Daruma doll:
   1) Decide on a specific goal we are determind to achieve.
   2) Draw one of Daruma's blank eyes.
   3) Place Daruma somewhere visible so that while he focuses on our goal.
   4) Once we've achieved our goal, draw in Daruma's other eye to say "Thank you!".
   5) Yay!! Write the goal we achieved on the back of our Daruma!


   誕生日に新たな目標を定めて、だるまに目を入れよう!
   そう思って、昨日は、まずこの先10年の未来年表を書いてみました。
   欲張りな私は実現したいことが複数あり、年表は徐々に埋まっていったけど、
   だるまの目となると、的はひとつにしぼりたい。 複数の中からある大きな目標を
   決めて、開眼となりました。



   I decided to do on Daruma yesterday
                 of my birthday.


  

Preparing of "Sumi" ink and a writing brush,
I drew an eye on him to infuse a spirit into him.
Then keep him sitting on a shelf
where I can see him (he can see me) always.

My wish is a big project, and it seems to take more than 2 years even if the wish came true. 
So it will be at least 2 years later that the both eyes are contained to him. Really hoping he is all right
such a long period with only one eye.

願いがかなったとしても2年以上かかりそうな一大
プロジェクトなので、両目が入るのは早くて2年後。 
だるまさん、長期ですが、よろしくお願いします!

     Hey, Daruma san,
        please keep an eye on me until my wish comes true!