The Japanese cooking class which started in November 2011 reached the 5th anniversary. The cumulative total number of people should be around 500~600.
Thanks all participants of Wanaka locals, people from other areas and countries,
and my B&B guests from Japan.

2011年11月にスタートしたジャパニーズ・クッキング・クラスも、おかげ様で5周年を迎え
ました。 多くのワナカ・ローカルの他に、ホリデーをワナカで過ごしている外国人や、
我が家にお泊りの日本人ゲストの方が参加されたりで、延べ人数にしたら500~600人
くらいかな。 
先月の5周年のクラスでは、記念すべき第一回目のメニューだった料理も加え、
調理中にスパークリングで乾杯、食後のデザートも話題豊富な食材を使ったものを
用意しまして、いつもより華やかなクラスでした。

In the classes in November of the anniversary month, I added the same dish which was done at the first class, as a cooking menu. The time of toast made us cooking more gorgeous!


MENU: 


   "HARU-GASUMI"  春の霞蒸し
   (The meaning of the word is "Spring haze")
   It is a steaming dish of salmon
   and spring cabbage layered.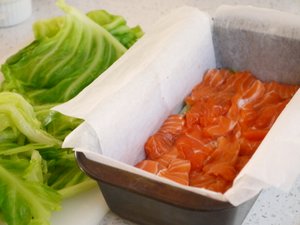 We used loaf tins as molds, mixed egg stick the layers together in the mold during cooking in the steamer.  Served with ginger dashi sauce.


      ****************************




   "TEMPURA"
   春野菜と鶏の渦巻き天ぷら、
   日本そば



     








Tempura of the leaf of carrot, so delicious!
にんじんの葉の天ぷら、是非ためしてみて!
葉っぱは栄養満点、サクサク歯ざわり、
旨みと苦味の大人味!

We made chicken roulade with tenderloin meat and dried "Nori" sheet, then did deep fry those and seasonal vegetables. Served with Ten-tsuyu (Tempura dipping sauce) and Soba noodles (Japanese buckwheat noodles).
Because there were some gluten free people, we made another Tempura-batter using with rice flour. Two different taste and texture of Tempura at once which was great experience.

各クラスにグルテン・フリーの生徒さんがいらっしゃったため、米粉の天ぷら衣も作り
ました。 2種類の衣の違いも体験できて、充実したクラスでした。


      ****************************


Dessert: 


  "MATCHA GATEAU CHOCOLAT" 
   抹茶ガトーショコラ

  (White chocolate melted into Matcha green tea,
           made a deep flavoured cake)






 





      "SAKURA CHEESE CAKE"
     ~preserved petals of cherry blossom
          on the top layer of the cake~


  



   桜花のレアチーズ・ケーキ

   プリザーブにした花びらを使ったデザート。
   何度も試作して、ようやく傑作品になりました!
   




           ******************************


     



    ******************************

皆さん、これまでサポートしてくださって、ありがとうございました。
これからも、地元の日本食ファンの方たちのために
美味しいものを、季節感あふれるメニューで
健康面での素晴らしさ・美しい盛付け術・伝統的な食べ方など
多彩にご紹介していきたいと思います。
~ 今後ともよろしくお願いいたします ~
I'm grateful to all the people who supported me.
I keep introducing splendid Japanese cuisine for Japanese foods fan,
with not only the deliciousness but also the splendor on the health side,
the traditional eating way, the artistic presentation,
with full of senses of the seasons.
Let's cook together next year, too!
Post comment
trackbackURL:http://japanesedinnertable.blog.fc2.com/tb.php/175-34a30904