I started making "Umeboshi" again in the middle of January as usual this season.

今年も梅干し作り、いつものように、1月中旬に塩漬けからスタートしましたが・・・
この夏の気候はこれまでになく悪く、気温は上がらないし強風の日も多く、
がっかりさせられました。 寒くて暖炉を焚いた日も数日ありましたよ。 
夏が来ないまま秋になっちゃうかも? と半ばあきらめていたところ、
2月後半ようやく素晴らしい晴天&無風の日がやってきました。

                After the un-usual weather through January and February,

  I finally got some
  great summer-like
  days for the pickled
  ume which was
  needed to be aired
  under the sun.

  梅を干すなら今!
  塩漬けからすでに
  4週間が経過。
  チャンス!






  Perfect timing!
  I let those get the sunlight
  on the swing at the terrace.

  気持ちの良い青空の下、
  今年もテラスのブランコの上で日光浴

 









                    Together with
        the bottles of Ume vinegar beside

                     梅酢も傍らで





  赤紫蘇がないので、白梅干しですが、
  これがまた美味しいのです。

  













     I made the pickles without red Prilla
          because I couldn't get it here,
                but these pickles are still delicious enough. I love it.


1日目に6時間ほど日光に当て、その後は屋内に。 夜間は涼しい場所に置き、
翌日もう一度6時間ほど日光に当ててから梅酢に漬け戻してから瓶詰め。 
日本に比べると、とても強い日差しとかなり乾燥した空気なので、このくらいが良さそう。 
晴天続きがこのタイミングで来てくれて良かった~




  After the airing for 2-days
   (6-hours each day),
  it was completed.
  I put the Umeboshi in jars
  and store them in dark cool place,
  together with the bottles of Ume vinegar.
 
  梅干と副産物の梅酢、完成!
  食卓での楽しみが増えました。 






*******************************************************************************

An idea recently occurred to me.
Which is "Ume-dare" sauce with honey!

最近思いついて試作したのは・・・
マヌカ・ハニーの梅だれ
ハチミツを隠し味程度に足したら美味しいかな~と思って、うちにあったマヌカでやって
みました。 甘すぎないよう、ほんのちょっとだけ、たたいた梅肉に加えて、お酒とみりんでのばします。 (きれいな梅干しの色を残したかったので、醤油は使わず、昆布茶で味を調整しました。)












RECIPE:  Mix all the following ingredients well.

2 pcs umeboshi --- Chop finely the pitted ones
                     to make the paste.
1/2 tea-spoon honey (I used Manuka honey)
2 Table-spoon sake
1 Table-spoon mirin
a little some Kobu-cha (or dashi) powder to adjust the taste.


今回作ったレシピ
梅干: 2個をたたいてペースト状にする(大きい梅なら1個でも)
マヌカ・ハニー: 小さじ半分 
酒: 大さじ2
みりん: 大さじ1
昆布茶: 少々
をよく混ぜ合わせる。

多めに作って冷蔵庫にストック。 いつもの料理にちょっとした変化をつけられます。

The "Ume-dare" sauce can be used for various food, as a dipping or dressing for grilled meat or fish, tofu, fresh or cooked vegetables, etc. I enjoyed it with the dish such as follows.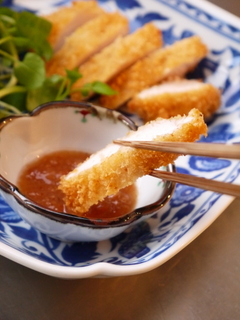 **Dipping sauce of chicken cutlets**
  I usually use "Bull-dog Tonkatsu sauce" for it,
  but this "Ume-dare" was also great.
  The mellow acidity of the sauce lets
  deep-fried food refresh and the taste lighten.

      **揚げたてチキン・カツに**
   とんかつソースの代わりに、
          マヌカ・ハニーの梅だれで。 
   胸肉を使ったやわらかカツは
              梅との相性良し
   揚物が、梅だれのまろやかな酸味で、
   スッキリとさわやかになります。




 **Topping on Soba-noodles**
 Just drop a little of this "Ume-dare"sauce.
 The harmony of all ingredients (Soba & the sauce, avocado, green shiso-perilla,
 and "Ume-dare") was wonderful.  We had another servings several times each!
  

  **もりそばのトッピングに、アボカド・刻んだ青じそ・マヌカ・ハニーの梅だれ** 
 あ、つゆに入ったスタイルだから、かけそば? 
 しゃっきりそばと、つゆに絡まったアボカド・青じそ・梅だれが美味しいハーモニーで、
 おかわり続出!


***Dipping sauce for "Daikon-chips"***


   Do you know Daikon-radish?
   The good fresh Daikon
            is juicy and delicious.
   I sometimes deep-fry it.  
   After chop it smaller pieces, sprinkle
   little-some salt, coat with cornflower,
   then put into the hot oil.  It is like
   potato chips, but it's more juicy texture.
   Perfect snack for beer. And...
   It becomes perfect snack for "Shochu",
   when it's dipped with the "Ume-dare".



**大根チップスに梅だれディップ**
大根を拍子切りにして、塩少々振ってから片栗粉をまぶしてカラリと揚げて、最後に
昆布茶を振りかけます。 これだけで素晴らしく美味しい和風チップス。 
ビールがすすみます。 
ここにマヌカ・ハニーの梅だれを添えて焼酎のお供にもいかが?




      これから徐々に熟成されて、
        ますます美味しくなる梅干し。 
 ごはんのお供に、お酒のお供に、
     体調の悪いときにも重宝する
             我が家の常備品です。

            きれいな色の梅酢は、
           ドレッシングに使ったり、
  10月の桜の花漬けを作るときに
                また活躍します。

  こんな素敵な日本の食文化を
     ずっと引き継いでいけたらと思います。


The taste of "Umeboshi" is gradually matured from now on,
and it becomes more delicious. It is one of my preserving at home.
Not only at the meal time,
but also the "Umeboshi" is useful as a medicine when my body is out of condition.
In addition, the "Ume-zu" vinegar, which is the by-product,
is usable for the making of sauce or dressing,
and is useful for making of cherry blossom pickles in October.
I toast this splendid Japanese food culture!
Post comment
trackbackURL:http://japanesedinnertable.blog.fc2.com/tb.php/183-c4cf088d