One of traditional Japanese sweet,
           Yokan.
   I made it with kumara (sweet potato)
   paste instead of azuki bean paste.
   The cut end is beautiful by having
   put dried fruits and walnut in.

   寒くなってから何度か作ったクマラの羊羹、
   ドライフルーツと胡桃入りで
   切り口がなかなか素敵です。 
   日本のサイトで見た美しい模様の羊羹を
   真似して、小豆餡の代わりにクマラ
            (スイートポテト)餡で。



* * * * * * * * * * * * * * * * * * * * * *



  Cook the kumara, make it paste, add sugar,
                       and mix well.

  クマラ餡は一度に大量に作って冷凍保存して
  ますが、そのうちの400gを使います。

  
  







Combine 8g of "Kanten" (powdered agar agar) and 500ml of water. To dissolve the powder completely, mix well by whisk while it is boiled, and continue for 4~5 min on boiling. (Important part!)  
Add kumara paste (400g), mix well, add sugar
and maple syrup to adjust the sweetness.

粉寒天(8g)と水(500ml)を合わせて沸騰4~5分(ここは長めに念入りに!)、
作ったクマラ餡(400g)を混ぜて良く練り、シュガーとメープルシロップで甘みを調整。
(お好みですが、羊羹をイメージして、甘さを強めにしたほうが美味しいかも。 
もともとクマラ餡が甘いので、ここで使用したシュガーは50gでした。)




  I prepared dried fig, dried apricot, and walnut
  as the contents. Sprinkle a little rum and
  hot water over the dried fruits if it's needed
  to soften. (as for the hard apricot particularly)
  Crack and remove the husk of walnut.
 **This preparations of dried fruits & nuts should
  be done before the agar-work which I wrote up
  there. (sorry, the order is reversed)

  中身はドライフィグ・ドライアプリコット・胡桃。 
  フルーツが硬い場合は(アプリコットは特に)
  少々のラム酒とお湯をふりかけて数時間おく。
  胡桃は殻を割り、なるべく形を残しておく。
            (細かくならないようにする)
順番が逆になったけど・・・
      入れる具の準備を整えてから、上記の寒天液作業に入ってくださいね。
  
  
Pour the one-third of kumara-kanten mixture in a container or cake tin (I used 23x8cm tin), place the half of dried fruits in and put some walnut in the gaps.
Spread another one-third of mixture on it. Place the remaining fruits and walnut there.  Then top the remaining mixture, flatten the surface.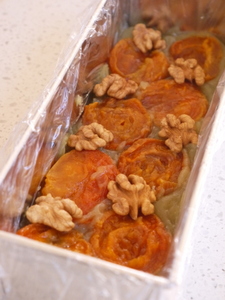 (23x8cm の型を使いました)

TIP: The Kanten (agar) works well and the mixture becomes to be set (harden)
  soon at the room temperature. So the layer-work should be done quickly. 
  You can keep the pan of mixture on very low heat beside you during this work.

  ~~ Cover with wrap and cool in the fridge for a half day or overnight ~~

容器に1/3量のクマラ寒天液(すでに半固体)を入れ、そこへアプリコットを置き、隙間を
胡桃で埋めていく。 さらに、1/3量のクマラ寒天液を上に入れ、ドライフィグと胡桃を
埋め込むように配置する。 残りの寒天液をのせ、表面を平らにする。
表面にラップをして冷蔵庫へ。

TIP:  寒天液は火から降ろすとすぐに固まって作業しづらくなるので、ここは手早く!
    鍋は極弱火に置いて保温しながら進めるといいですよ。


* * * * * * * * The next day * * * * * * * * * * 



   Let's cut it!















     一晩おいて切ってみたら、こんな感じ



The texture of the base is like a fruit pate.
Nice combination of sweet kumara and acidity of apricot & fig, crunchy of walnut.

地元のスーパーに売ってるフルーツパテにも似てるかも! 
フィグとかピーチとかペアのフルーツパテみたい。




  It may match sparkling or Pinot Gris when
  it is on the cracker and cream cheese,
  as well as it's good for teatime sweet or
  dinner dessert.

  ティータイムやデザートにもいいけど、
  クラッカー&クリームチーズにのせたら
  スパークリングやピノグリにも合いそうです。








和菓子のような洋菓子のような、
     ワインにも合いそうな不思議な羊羹。

友人たちにプレゼントしたら話題になりました! 
                また作ろう!


It also became a really nice gift for my friends.
Will make this again!