Happy New Year, cooking mates!

Belatedly I have looked back the cooking classes of last year.
It was always happy, peaceful, and quality time,
thank you all to cook the Japanese food together with me.


良い新年を迎えられたことと思います。
昨年も、南半球の四季折々の料理教室を開催できて、
お蔭様で充実した一年でした。 

年がまたがってしまいましたが・・・
最近の教室(10月~12月)から、
春の親子丼・初夏の串カツ&アスパラすり流しの調理実習の様子をご報告。




   ********************************* OCTOBER  **********************************



  OYAKO-DON :
  One of representative Japanese home
  cooking dish. The egg was a decisive
  factor, we used good fresh farm eggs.

  春の卵料理、「簡単で美味しい!」
  と毎回好評の

親子丼









SHIRA-AE (salad dressed with mashed tofu) :
The spring vegetables dressed with the gently
tasted tofu, which was nice side dish of OYAKO-DON.

他に、

春野菜の白和え

: 優しい彩りと味。





  SAKE-KASU TIRAMISU :
  A variation of "Tiramisu". Beautiful aroma and
  flavour of sake!  We used Sake-kasu from
  "ZENKURO" sake brewery in Queenstown.
    
  

酒粕ティラミス

: クイーンズタウンの酒蔵
  『全黒』の酒粕を使ったデザート。
  お酒の風味がたまりませ~ん(美味)










フランザ・ファームのひさこさんがダニーデンから
産みたての卵をたくさん持って駆けつけてください
ました。 ここの卵は特大サイズで本当に美味しい
のです。 お蔭様で極上の親子丼になりました! 


ファーム・ステイならフランザ・ファーム


お勧めです!   Franza Farm Dunedin

One of my Japanese friend, Hisako, participated from Dunedin. She brought fresh farm eggs from her land for us.
She runs accommodation called FRANZA FARM at amazing place on the hill, just contact her when you go to Dunedin area.
Franza Farm Dunedin

                  Hisako san
                    



******************** Group booking of 10 / NOVEMBER  ********************

I got a group booking in November, which was a great number of 10-participants!

11月のグループでのお申込みは10名様という大人数! 
親子丼、豆乳味噌汁、煉りゴマ(タヒニ)アイスクリームのメニューで実習しました。



OYAKO-DON: Fluffy egg covered chicken meat, served on a bed of quinoa rice.
Chopped "Tofu puff" was a substitution of chicken for the vegetarian people.



This SOY-MILK MISO SOUP is served as a breakfast soup for the overnight guests too,
they loved it. Try it in the morning, too!
この豆乳味噌汁は、B&Bの朝食にも良く登場しますが、どの国の皆様にも好評です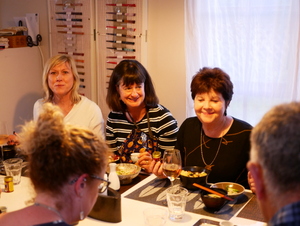 SESAME (TAHINI) ICE CREAM: Flavorful taste from Goma-sesame, black & white.

     ~ Awesome people, hoping they enojoyed it. Thank you, Andy! ~



************************** NOVEMBER / DECEMBER ***************************



  SURINAGASHI of asparagus:
  One of Japanese soup dish "Surinagashi".
  We enjoyed this seasonal special with
  full flavour of asparagus.

  この時期ならではの味、アスパラガスの
  すり流し。 前にレシピをブログに掲載したけど、
  今回は改良バージョンで豆乳を使いました。






KUSHI-KATSU of chicken & veges:
A variation of Chicken-Katsu.
Colorful combination with red capsicum, zucchini, asparagus.



野菜とチキンの串カツ

 
彩り綺麗なカツ、レモンとお馴染みの
ブルドッグ・ソースで。
赤ピーマン・アスパラガス・ズッキーニを使いました。



   TAKENOKO-gohan:
   Takenoko (bamboo shoots) harvested in spring are eaten
   as takikomi gohan well in Japan.  We used the handy
   canned bamboo shoots, mixed to the rice, red quinoa,
   and tofu puffs, in the seasoned stock.

   

筍ごはん

は、手軽に缶詰使用。 豆腐パフ(油揚げ)と
   実習ではレッド・キヌアも入れて、にぎやかに。





                   Delicious sound at the cutting of the crispy fried Katsu!



  毎年この時期に来てくださる仲良し義理親子:  地元のドクターと、
  彼の奥さんのお母さんがドイツからやってくると二人で参加申込みがあります 



                    Well done, looked delicious!






After the cooking,
we enjoyed the tasting of our beautiful works
with chatting and laughing.





        


I'm looking forward to welcoming you back to the Japanese cooking this year again!