Renon & I visited Andrew & Hisako's farm near Moa flat, as our annual summer holiday visit. The farm is our pet dog "Alanta
" and pet sheep "Miffy
"s home-farm.
We enjoyed 2.5hours drive from Wanaka listening to the Beatles music.
(Sumurai-husband couldn't come this time because of his busy work .)




今年もレノンの夏休み中に、アンドリュー&ヒサコさんのファームに遊びに行って
きました。 私たち家族にとっては、毎年夏休みに1泊で行く、親戚の家みたいな
ところです。 そしてここは、うちのアランタ(牧羊犬
)とミッフィー(羊
)
の故郷でもあります。 
ワナカから車で2時間半のところにあるファーム。 今回、サムライ夫は仕事のため
留守番で、レノンと私の二人でお邪魔しました。





  As soon as we arrive,
  Renon made a good friend, Yuki,
  who stayed there as a worker.

  到着早々、レノンはこちらの
  ファームに滞在中の優紀ちゃんに
  仲良くしていただいて、
  優しいお姉さんにべったりです。


We enjoyed great farm dinner, wine, and talking until late.

ダイナミックで美味しいファームのディナーをいただいて(スミマセン、うっかり写真
撮り忘れました)、その後もワイングラスを傾けながらのおしゃべりは、毎度のこと
夜更けまで続きました。
Next morning, Renon waked up earlier than me and watched Yuki's job.
Yuki was different from the girlish look at the night before, she was so reliable
farm worker. Renon was interested in her job and keen to help her.

翌朝、めずらしく私より早起きしたレノン。
早速、優紀ちゃんのお仕事についていくことに。 彼女は立派なファームの一員、
昨夜の雰囲気とはガラリと変わって、頼もしいファーマーぶり!



 
  "See you later, Mum!"

  優紀ちゃんのバイクにレノンも
  便乗させてもらって、
  「行ってきま~す!」 
  どこへ?



I enjoyed girls chat with Hisako during they were away.
その間、私はヒサコさんと楽しいおしゃべりタイム。


Here they came back!  しばらくすると、帰ってきた様子。



Renon brought fresh eggs which were collected at Hen's shed.
取ってきた卵をトレイにのせて、嬉しそうなレノン。




They were wholly free range, and the eggs !   We happily enjoyed "Tamago-kake-gohan" (fresh raw egg on cooked rice).  Real Japanese style meal!  
The bright yellow egg york was standing up.
ここのは放し飼いであっちこっち走り回っている元気な鶏たち、その生みたての卵を、
卵かけご飯でいただける幸せ。 黄身がプックリとっても濃いんです! 




Yuki showed me a tool which was for giving milk to calves. There were partitions in inside to be equalized the amount of milk for them.
優紀ちゃんは、子牛にミルクをあげてきたと言って、こんな道具を見せてくれました。 
速飲みの子牛とゆっくり飲みの子牛の飲む量が同じになるように、中も仕切られて
います。



Next, we went to goats' shed to feed bottled milk to the babies who couldn't get breast feeding from their mum.
お次は、子ヤギたちにミルクをあげに。


Goats approached.
気配を感じてヤギたちが集まってきました。 でもミルクをあげるのは、訳ありでお母さんヤギにおっぱいをもらえない子ヤギ3匹だけなんです。




How flexible their neck !!  Baby goats sucked milk in high spirits with turning their head round and round.  One was kneel down to sucked milk from Renon.
同時に2匹の子ヤギに、要領よくボトルを傾けてる優紀ちゃん。
子ヤギって首が360度まわるんですかね~? ボトルに吸い付くように、とんでもない
ほうを向きながら飲んでます。 レノンの前で、ひざ間づいてミルクを飲む赤ちゃんヤギ。



Then, Yuki & Renon left for help Andrew who was shaved sheep's hair and clean their bottom.  その後、また二人でバイクに乗ってでかけました。 今度は羊のおしりの毛を刈るアンドリューのお手伝いだそうです。


"See you later, be a good helper!"  「行ってらっしゃ~い!」


After lunch, Hisako took us for feeding goat, for giving leaves from her rose pot.


午後はペットのヤギにおやつをあげたり、
「エッ、ヒサコさん、バラの木の葉を食べさせていいんですか~?」




She took us to cow's field, and to piglets' field.
それから、牛たちの様子を見て、小ブタちゃんたちに挨拶し、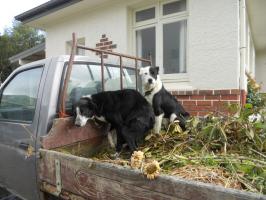 Finally, we met "Silver" who was Alanta
's daughter.  (Veteran working dogs
)
アランタ
の娘、シルバーにも再会し、ファーム滞在を満喫しました。
(車の荷台に大人しく乗っているのは、ベテランのファームドッグたち。)


There were many kinds of pet in Hisako's zoo.
(We forgot to visit donkeys, this time...)
本当に、たくさんの動物がいるんです、ここ。
(何か忘れてると思ったら、今回はロバに会い忘れた! )


How nice...Renon got a great study and experiences, and I got a great relaxation.
In addition, we got lots of treasures of farm production!

夕方までゆっくりまったりさせていただいて、アンドリュー&ヒサコさんファームを
後にしました。 帰りがけにいただいた嬉しいお土産たち。。。
新鮮な牛乳、自家製ヨーグルト&生クリーム、生みたて卵、畑で取れたルバーブなど、
宝の山を車に積んで、「帰ったらこれで何を作ろうかな~」と、またまた創作意欲が
沸いてきました!  帰ってからのお楽しみ付きです。

Various dairy products of Fresh milk, Homemade Yoghurt, Fresh cream, Special cream for coffee, Top cream, free-range eggs, and Rhubarb.


One of them, the top cream, has the highest quality as known as the French phrase of "Creme de la creme", which could be taken with a tiny little amount from the top part of fresh cream.
I tried to taste it with strawberries.
"Ye~s, it has luxurious taste!"

お土産の乳製品のひとつ、フレッシュクリームのトップ部分にできる高級クリーム。 
フランス語で、選りすぐりのもの(Best of the best)という意味で使われる「Creme de la creme(クリームのクリーム)」という言葉がありますが、その語源とも言われる最高級のクリーム。 新鮮なミルクから抽出される量はごくわずか。 まさしくコレです! 
トロリと濃厚な贅沢な味がします。
マフィンやスコーンなどの何気ない素朴な焼き菓子が、このクリームを一匙かけるだけで一気に格上げされます。 このクリーム、まずはいちごにつけて。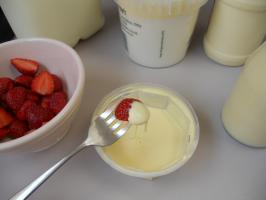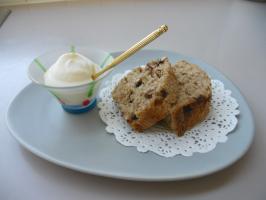 Whipped cream with freshly home-baked rye bread of choc-chips & walnuts
生クリームは軽くホイップして、焼きたてチョコとくるみのライブレッドに添えて。

Nice!  I got a good break, in these days of healthy eating challenge.
このところの健康食生活の毎日に、素敵な乳製品たちがちょっとした息抜きを与えて
くれました。