For wine lovers,
I often make a blue cheese chiffon cake which has rich texture
of tasty NZ bluecheese.
Here they were!!
This couple loved NZ wine, and enjoyed it with each course of dinner.
Before dessert, I served some pieces of the blue cheese cake for them.
It was another good matching !!

ワインのお好きなカップルがいらっしゃいました。
我家のワインセラーから、2本は選んでおきましたが、さらに1本・・・。
メインディッシュも終わり、そろそろデザート?と思いきや、次のワインに突入。
・・・で、甘いデザートの前に、小休止でお出ししたのは、
ブルーチーズのシフォンケーキ。
適度な塩気と甘みほんのり、こっくりとした食感で、ちょうど良いワインのおつまみ。


Blue cheese chiffon cake, served with real blue cheese,
dried fruits, & home-made quince sorbet.




ご主人がワインをお楽しみ中、
ピアノの先生でいらっしゃる奥様の思いがけずの素晴らしい演奏を耳にしました。

After a while, the wife who was piano tutor in Japan showed us a beautiful piano performance here. She enjoyed the sounds itself of my old piano.


Collard & Collard London (1905): has a great rich tone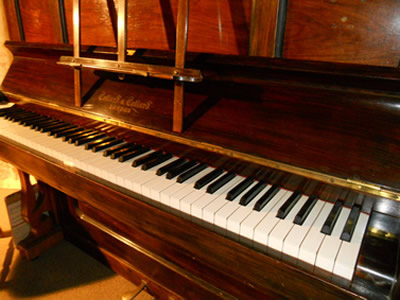 我家のピアノは、1905年製造(107歳!)のアンティーク・ピアノで、
燭台のついていた跡が残っています。
調律師の薦めで、そろそろ買い替えも考えていたところでしたが、
奥様から「古いピアノならではの深みのある素敵な音色ですね」と褒められて、
「もうしばらく、このピアノと共に」と心に決めました。
次回いらっしゃったときには、是非レッスンをお願いします。

Well done my piano for 107-years !